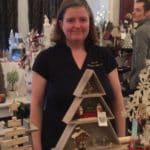 Hello, I'm Caroline and I'm 'The Boss' (otherwise known as The Master according to my husband, a Doctor Who fan) of The UK Christmas Store.  However if you have met us at any of the Christmas fairs you will know this is very much a family run business.
My long suffering husband has been given the title of Logistics Manager as he is in charge of getting the stock to and from the cars.  He also is very much integral to sales, and also has a good eye for display.  The younger members of the team are Christmas apprentices in training, they do help with setting up (when bribed/paid) and sometimes have been known to serve customers as well.
The business started life in 2011, and has steadily grown over the years.  Based in Thirsk, North Yorkshire we regularly attend Christmas fairs and bazaars throughout County Durham, Teesside and Yorkshire from September onwards.  We are now planning to expand our online offering with some exclusive products.
We love meeting our customers, it is awesome to know that we choose the right products for you every year and lovely to have some of you returning year after year to refresh your Christmas décor.  If there is anything you are struggling to find please do get in touch, we will do our best to help.
Thank you for visiting our website, and we hope to see you in person soon.
Caroline xx